Fish Creek Park and Communities Near-bye
Fish Creek Provincial Park can be found in south-central Calgary and contains a treasure trove of natural attractions and family-friendly activities. As Canada's largest urban park it contains over 80km of maintained trail. It offers many opportunities for recreational activities throughout the year regardless of age or physical ability.
Although it is within the city, Fish Creek Park will not show up on the list of City of Calgary Parks because Fish Creek Park is maintained by Alberta Parks within the city.
On the far west side near the neighbourhoods of Woodbine, Woodlands, and Evergreen is an area perfectly suited for the outdoor enthusiast. In the winter it is the best area in the park for snowshoeing and cross-country skiing (novice to experienced). While in summer it provides great inner-city walks and hikes around Bebo Grove or Marshall Springs. The Shannon Terrace Amphitheatre is also a popular spot for beautifully rustic wedding ceremonies.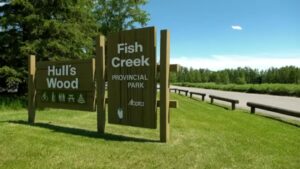 Moving east towards the neighbourhoods of Canyon Meadows and Shawnee Slopes you will find Canyon Meadows Golf & Country Club nestled on the north side of Fish Creek Park. Canyon Meadows Golf and Country Club is considered one of Calgary's premier private clubs. Formed in 1957, this parkland style golf course is an ideal walk and with five sets of tees, you can find the length of course that best suits your game. If golf's not your thing you can visit the Greengate Garden Centre and bring some of the greenery home. Greengate Garden Centre has been operating since 1997 and offers a wealth of variety and knowledge for the avid gardener. Votier's Flats provides a great setting for some outdoor family time, including great bike trails for kids to learn on, paths for long, light walks and great opportunities for wildlife and bird-watching.
Are you looking to live near one of the best parks in Calgary, then look no further. Communities that are near or border on Fish Creek Park are:
On the east side of McLeod Trail, located in the centre of the neighbourhoods Lake Bonavista, Parkland, and Midnapore there is a large network of trails such as the most easily accessible Glenfield Meadows. Glenfield Meadows is a popular spot for easy walks, picnics and barbeques with friends and family. Glennfield is the only park area with picnic shelters that can be reserved. From here heading southeast to the section of Fish Creek Park centrally located between the neighbourhoods of Parkland, Deer Run, Sundance and Mountain Park is the area that many people might consider the most popular section of Fish Creek Park. This area includes one of the best restaurants in Calgary, the Bow Valley Ranch Restaurant. A magnificent historical landmark this fine-dining establishment offers exquisite ambiance suited to any occasion. The Bow Valley Ranche Restaurant is an encounter of unique atmosphere and locally-sourced, wild game-inspired fare.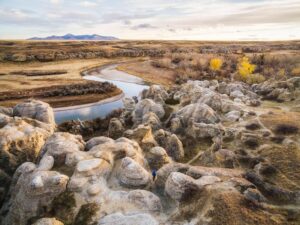 This area of the park also includes some excellent warm weather family fun. The adventurous family can work on their biking skills at the Fish Creek Mountain Bike Skills Park, which is suitable for everyone from kids to adults. Alternatively, if your family likes to kick back and relax beachside Sikome Lake is the perfect family fun day out. This man-made lake is a shallow, warm lake with a sandy bottom and a beach. Bring your inflatables and enjoy some wading, swimming and beach play!
From this central hub, Fish Creek Park diverges north and south. The quieter south end of the park is hemmed by the neighbourhoods of Chaparral and Cranston. Lafarge Meadows provides the perfect backdrop for calm and peaceful walks along the Bow River. Need a little entertainment with your walk? Head over for a relaxed day on the links at Blue Devil Golf Club. This unique and awe-inspiring golf experience unfolds before the serene river valley of Fish Creek Park and offers the very best in Calgary golf with its rolling fairways and unique and challenging bunkers. Along with the Blue Devil 18 holes, you can also have a memorable day with the family on the Lil Devil 9 Hole short course. Perfect for kids, beginners, seniors, and anyone who wishes to have a better short game.
Finally heading to the northeast end of the park which is skirted by the neighbourhoods of McKenzie Lake, Douglas Dale, Queensland, Deer Ridge and Deer Run is a section of the park that is perfect for the relaxed nature lover. It's a great area for dog walks, watching wildlife and birds or casting a line and doing some fishing on the Bow River.
Whatever you're interests may be Fish Creek park offers something for everyone and provides an amazing place to relax and recharge all while living in the city.
Interested in seeing homes in these areas? Give us a call today at 403-816-7169